2018 Happenings
While there is still time before 2018 begins, we've started to list events that are scheduled as of this publication date. Here are the first ones:
Annual Planning Meeting - Saturday, January 20
VP Tim P mentioned the first 2018 event at the annual Holiday Party and encouraged a big turnout, regardless of the weather forecast. Tim said the event will be held at a Golden Corral, since they have private rooms to accommodate a large crowd, but has not finalized which restaurant will receive our business this year. Check back for more information as it becomes available.


VTCI North Central Regional - June 7-10
The Midwest Thunderfest will be hosted by Thunderbird Midwest Club in June of 2018. The location is the Best Western in Shoreview, MN on the north side of St. Paul. A Friday tour has been planned that will take participants to the Minnesota Landscape Arboretum and the Chanhassen AutoMotorPlex.

Hotel reservations can be made by contacting the Best Western Plus, 1000 Gramise Rd, Shoreview, MN 55126, (877) 233-3194 or send an email to frontdesk@bestwesternshoreview.com. Mention the Thunderbird Convention to receive rates of $99-$109 per night with breakfast included. If your Registration for the Regional Convention is received before March 1, 2018, you will be in a drawing four times for a free night's stay. If your Registration is received between March 1 and April 1, 2018, your name will be in the drawing three times. If your Registration to the Convention is received in April, your name will be in the drawing twice. And if you procrastinate until after April 30, 2018 to get your Registration in, you will still be in the drawing, but with only one chance to win the one free night's stay.

​Details can be found in the November/December 2017 Thunderbird Scoop along with a Registration Form. Or contact VP Tim P for more information and to request a Registration Form.


VTCI International Convention - July 11 - 14
The formulation of this Convention is in it's early stage, but the hotel has been selected. The Host Hotel will be the Marriott Southern Hills located in Tulsa, OK. Make your hotel reservations now by calling (918) 493-7000 or (866) 530-3760. Make sure you tell the hotel representative that you are attending the VTCI International Convention to receive the negotiated hotel rate.

We anticipate that many of the VTKC members will attend this International since it is a short 5 hours drive from the KC area. More information to follow.
2017 Happenings
2017 is winding down, but you can relive some of our past events here and on the
Past Events
page in this website.
​​
February 11
Lunch & WOW (World of Wheels)

Join the Club as our members gather for lunch and then a tour of WOW.

Time - 11:30am
Place - Flying Saucer, 101 E 13th St, KCMO
Lunch will be at the Flying Saucer in the Power & Light District. We'll order off the menu with separate checks. After lunch, you have the opportunity, with ticket purchased before or at the door, to see all the cars on display at this year's World of Wheels.


VTKC has ten Thunderbirds of in this show, so it will be a great time to look at what our members are driving as well as see what other gems are on display.
Those Club members sharing their rides at WOW included:
Fred S - 1959
Ed W - 1962 Sport Roadster
Derick C - 1964 Hard Top
Rick G - 1965
Sophie - 1966 Town Landau
Ron B - 1966 Town Landau
Tim P - 1970 4-door
Scotty M - 2002
Kenny S - 2003
​Rob M - 2005
Contact President Scotty or VP Tim P if you are interested in attending the car show after lunch. Discount tickets can be purchased from O'Reilly for $16 per adult, $18 at the door.
March 18
Armacost Car Museum & Lunch

A Private Car Collection Celebrating the Art and History of the Automobile

Time: 9:15am
Place: First Baptist Church
1416 Main St
Grandview, MO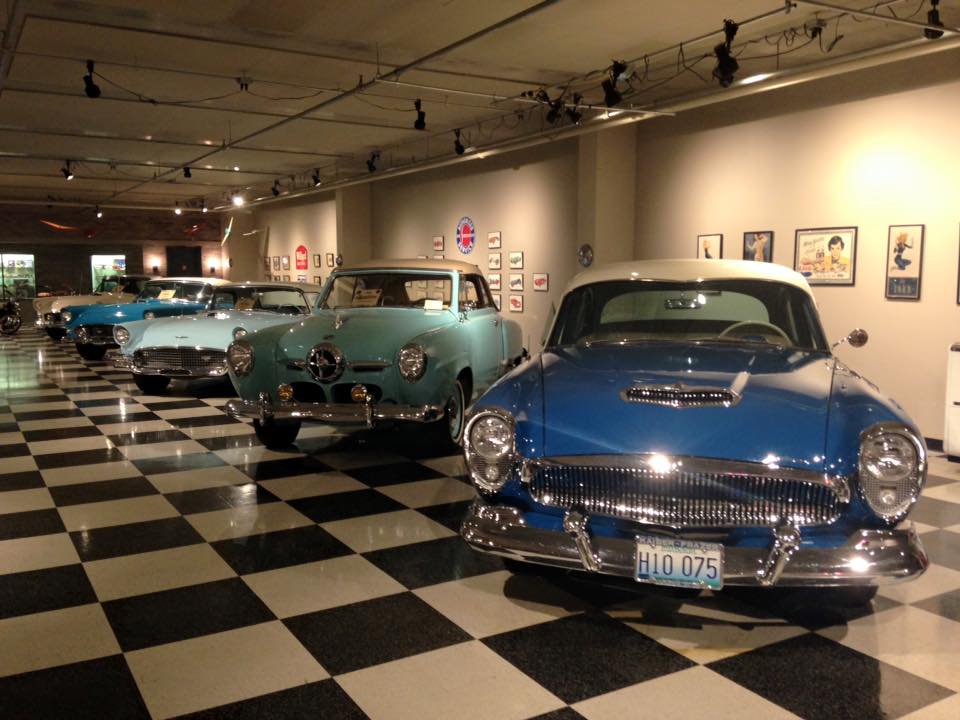 Meet at the First Baptist Church parking lot at 9:15am. We will caravan the 1.5 miles over to the Armacost Car Museum for a photo shoot and entrance (see map below). Great automobiles of the past and present will come alive to all in attendance. The collection is an eclectic one with cars ranging in age from a 1910 International to a Ferrari Testarossa. The premiere mark in the collection is Studebaker. The Armacost family had a long and fruitful relationship with Studebaker, dating from 1923 to 1956. Twenty-eight Studebakers are on display ranging from a 1915 SD4 Touring car to a 1964 GT Hawk. There are many Studebakers from the 20's and 30's, considered the heyday for Studebaker.

In addition to the cars, there is an extensive collection of antique pedal cars, motorcycles, bicycles, automotive related art and a large collection of gas powered toys. The gas powered toy cars date from the 30's to the late 60's. Gas powered toy airplanes as well as other toys are also included in the collection. All of this on two floors covering 44,000 square feet.

And be aware that this museum isn't open to the public, so we are thankful for the efforts of VP Tim P for having club members gain access to this great KC area museum. There is an entrance fee of $10 per person.
After our great tour of the Armacost Museum, we will caravan over to RC's Restaurant and Lounge in Martin City at 11:30am for lunch and conversation. Order from the menu with separate checks. Please let VP Tim P know if you will be attending this unique experience.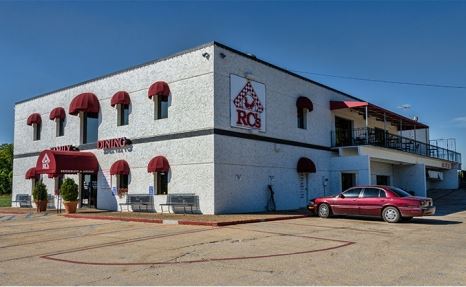 April 22, Saturday
Annual Spring Drive

On this Saturday, the Club is Joplin bound. We will gather at the Family Center Farm & Home Harrisonville.
We will be gathered no later than 9am, so we can caravan to Joplin. Make sure you are gassed up and ready to head out. Our first stop will be Babe's Drive In on Route 66 and you'll recognize it by this: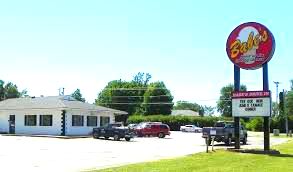 After a filling and healthy lunch, we are off to the Joplin Museum Complex. There is a minimal fee for entrance into the museum complex.

In the Dorothea B. Hoover Historical Museum you can explore the life and styles of early Joplinites. You have the opportunity to peer into the lives of Bonnie and Clyde as well as the Route 66 experience. You can also find the Circus room and an entire corner dedicated to the history of cookie cutters.

And in the Everett J. Ritchie Tri-State Mineral Museum is teeming with incredible specimens from local geological finds. Upstairs there is a fully functioning miniature sized model of a mine inside and out.

The National Historical Cookie Cutter Museum puts a spotlight on the history of cookie cutters. The complex includes the Empire District Electric Company Museum and the Joplin Sports Authority Sports Hall of Fame.

Once you have enjoyed time at this museum complex, it is back on Route 66 west to Galena, KS. Did you know that Historic Route 66 passes briefly through the State of Kansas on its was between Joplin, Missouri and Miami, Oklahoma. Although Kansas has the shortest stretch of the popular old route between Chicago, Illinois and Los Angeles, California, the 13 miles of Route 66 in Kansas are among the best preserved and have many attractions. We'll stop at Cars on Route 66, a restored Kanotex gas station that looks similar to this: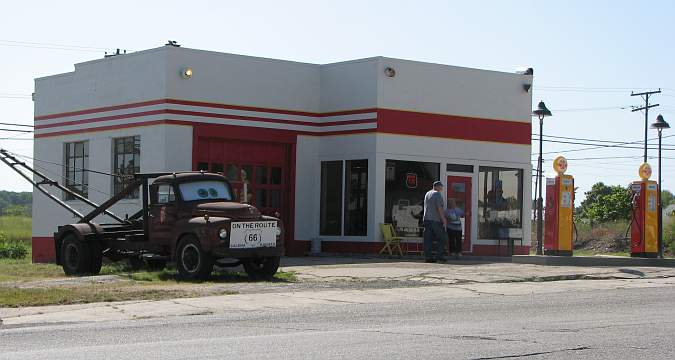 There are a number of interesting Route 66 sites in Galena that you'll see, before we head back north and Kansas City. Our annual Spring Drive is something to look forward, and what Tim P has planned should be a great time to get our TBirds on the road.

VP Tim P is looking for leader volunteer(s) to head up the Spring Drive, so contact him if you have an interest in leading the charge.
​
May 13
O'Reilly Auto Parts Thunderbird Car Show

This is our car show season kickoff. Truly a TBird only car show and yours should be one of them on the field.
Time:10am - 3pm
Place:11218 E 24 Highway, Sugar Creek, MO

Lunch provided by the club for club participants. Who would like to assist in the coordination of the lunch? Contact Gerald E for more information and to help with this event.
May 21
Thunderbird Appreciation Day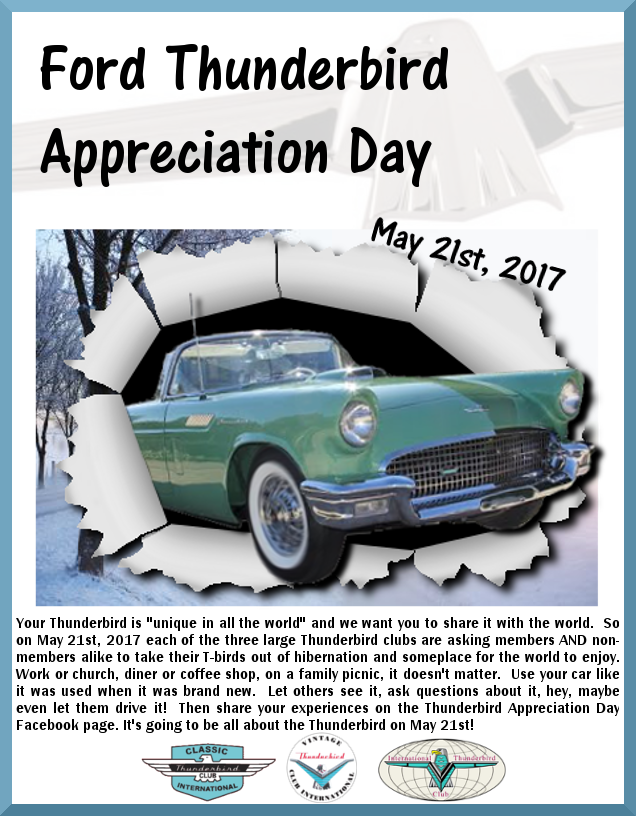 Are you ready to let the world see your Thunderbird on Appreciation Day? And to top that, how about taking your car out to the ballpark, Community America Ballpark that is, to see the TBones win over the Lincoln Saltdogs? Sound great? Here are the details:

Date: Sunday, May 21
Time: 10:30am
Where: Glad you asked. Check out the map below to see where the TBones organization will set aside a special parking area for you and your Thunderbird.
​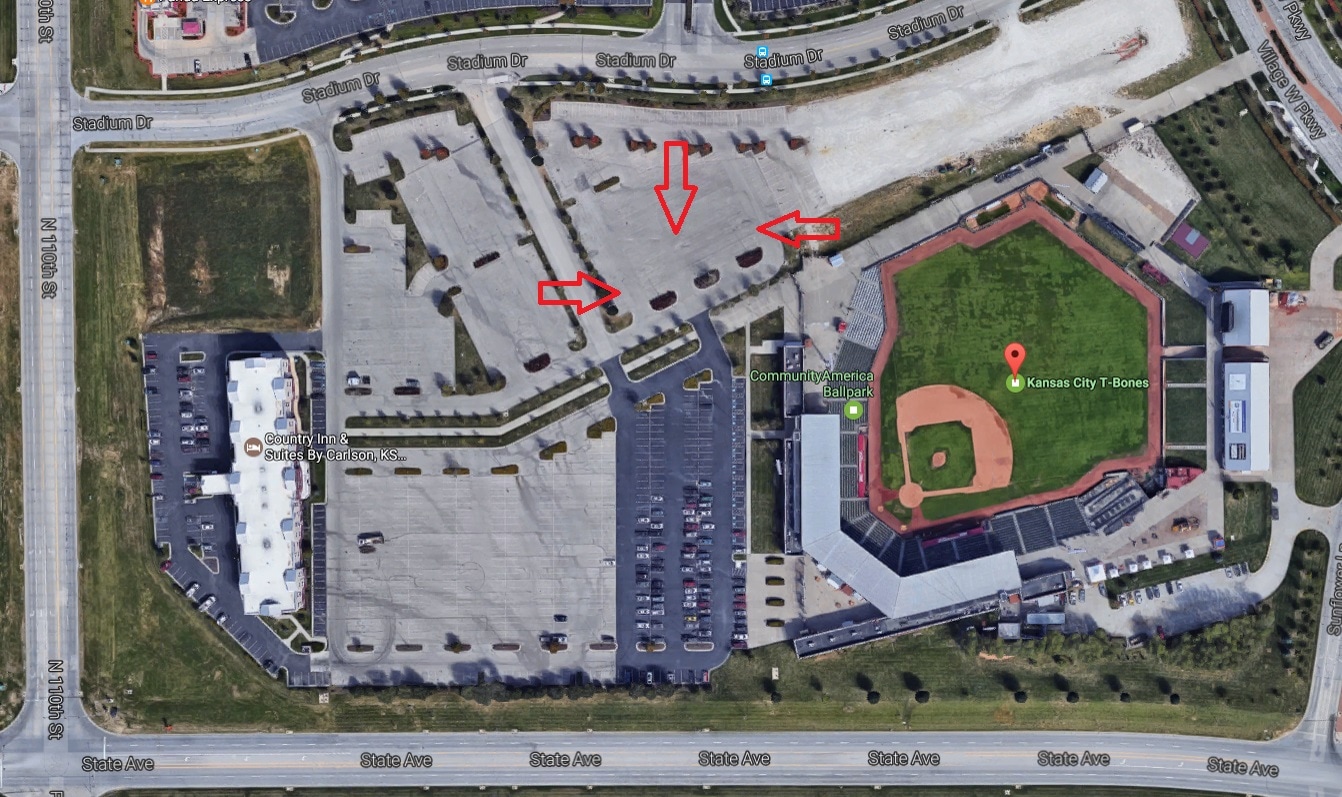 If you're familiar with the stadium, our assigned parking area will be just outside of Gate B. If you're not familiar with the stadium, our assigned parking area is still just outside of Gate B in the area shown by the three red arrows in the overhead picture above.

If you want to take in the baseball game, we have a block of tickets reserved in section 110, rows 6-9. Let Scotty or Tim D know you want to enjoy the game from inside the gates and the number of tickets you want no later than Thursday, May 4. Cost of the tickets are discounted at $10.50 each. Scotty will have the tickets in the parking lot so bring cash to pay him for the number of tickets you want. If you don't want to see the baseball game, we still want you to show off you Thunderbird, so come on out and join the group for an enjoyable time.

But wait! That's not all! Open to all Thunderbirds is recognition of your car on the field before play starts. Even for those who don't want to watch the game from our special section down the third base line. That means every Thunderbird. We will line up outside the field tunnel as directed, drive onto the field around the warning track, shut off our engines and listen to the National Anthem, returning to our cars and driving them out the way we came in and back to the designated parking area. How cool will that be?

So now it is up to you. Let Scotty know you plan on attending our version of the Thunderbird Appreciation Day and which Thunderbird you will be driving. We need to know which Thunderbird you will be driving to do something special when you show off your car on the Community America Baseball park warning track. Also let Scotty or Tim D know you want to buy X number of tickets to see the TBones wallop the Nebraska Saltdogs, no later than May 4.

​We are partnering with the Heart of America Classic Thunderbirds of Kansas City, so we will hopefully see some Thunderbirds that don't usually participate with our Club's car shows. Thanks to their President, John Smith, for having this Club take part in this first ever Thunderbird Appreciate Day.


May 28
​Art of the Machine Car Show

The Vintage Thunderbirds of Kansas City have again been asked to participate in the annual City Market's Art of the Machine Car Show.
Time: 10am - 2pm
Place: Kansas City, MO City Market
5th & Walnut
​Kansas City, MO

Meet at the UMB parking lot, 7th & Walnut at 9:30am to caravan together to the City Market at 9:50am. Entry has changed from last year, as we will be parking just inside the entrance at 5th and Walnut, across from Bo Lings Chinese Restaurant. No shade is expected, so if you bring a tent, be sure you have a way to anchor it to the ground.

Coordinated by Tim P. Please let Tim know if he should expect your attendance.
​
June 10th
Auto Zone Thunderbird Car Show

It's time for the annual VTKC Thunderbird car show at Auto Zone.

Place: 11106 Shawnee Mission Parkway, Shawnee, KS
Time: 10am - 2pm
​
Lunch is provided by the club for club participants.

This event is being coordinated by Mark M, so contact him for more information or to let him know that you will be participating.
July 22, Saturday
Thoroughbred Ford Car Show

Join club members as they show off their T-Birds at Thoroughbred Ford in the north land.

Place: 8501 N Boardwalk Ave., Kansas City, MO
Time: 10am - 2pm

And if that isn't enough, caravan on over to Kenny and Barb's home for good old BBQ with all the fixin's plus dessert. What a way to end the day.
August 19
Tiblow Days
You'll notice that the date for this annual event is one week earlier than previous years, August 19, so make sure you enter the correct date on your personal calendar. Pre-registration is required. A registration form can be printed off at
http://media.wix.com/ugd/5c4b06_8842437bc22848faae25cb0080c50b79.pdf
and then mailed in.
You must register no later than August 1 in order to get the early registration fee of $5
. That guarantees that you will receive a "free" T-shirt and dash plaque. After August 1, the fee is $10, and can be paid by sending in your registration form to the address shown on the form, or the day of the event when you arrive.
The morning of the Show (August 19), all participants are required to sign-in at the Midwest Bus Sales parking lot (313 E. Front Street, Bonner Springs) between 8:00 AM and 10:00 AM. VTKC will wish to park in a group, so we will stage in the lot after members have signed in until we are ready to move to park for the show, which should be shortly after 10am, so plan on arriving and getting checked in no later than 10am. Trailers are not allowed after you leave the signing in area
And after the car show, drive on over to Warren and Jane's home for their special ice cream social. Please let them know if you plan to attend so they don't run out of the good stuff.
​
Eclipse Cruise
August 21
The word is out that there will be a total eclipse of the sun on August 21, 2017, and a great place for viewing will be the home of Leonard and Bonnie S. So they have invited the club to join them for this rare event, because you won't have another opportunity like this until 2316.

The eclipse at their home will begin around 11am and be a total eclipse at 13:07:48, last 2 minutes 27 seconds, in case you wanted that kind of detail. But the word is the Interstate system around the area will be jammed with cars, almost to a standstill. So there is a plan to caravan from Liberty beginning at 9am. VP Tim P has all the details. There will be a potluck lunch, so plan on pitching in with your favorite picnic goodies.
​
September 9
St Joseph, MO
Cruise-N the Village


Our club will be trying something new this year by joining an eclectic car show held the 2nd Saturday of each month, April through October. This event is organized by the North West Street Rods Club.

The event begins at 5:30pm, but we'll plan on arriving early so we can park together as a club. Plan on meeting President Scotty M at the Love's Travel Stop off Exit 44 on the east side of I-29, no later than 4PM. From there, we will caravan to a location set aside for our club by Leonard. Since we'll have club members coming for all points of the compass, you'll be on your own to make the trip to St. Joseph. Check the map below for location. It is the 2nd stoplight west of I-29. They advertise no pets or alcohol at the event.

Contact Leonard S to let him know you plan on attending so he knows how many slots to block off, no later than August 19. And for additional information, Leonard is the guy to contact.
​
September 14 - 17th 2017 VTCI International Concours Convention
​This year's VTCI International Convention will be held at the Wyndham Hotel in the Atlanta Galleria. More information will follow as plans are further developed, but get the date on your calendar. Several from VTKC plan on attending with a caravan probable.


October 21 & 22
VTKC Fall Drive to the Bridges of Madison County

The plan is to tour the Bridges of Madison County in Iowa plus much more, the third weekend in October. This will be an overnight adventure with lots of sights to see along the way. Rob M has stepped forward to lead this adventure.

A block of rooms have been set aside for VTKC members at the Cobblestone Inn and Suites in Winterset, IA. To make sure you have a room, call (515) 462-4889 and tell the receptionist that you are with VTKC.

Here is the weekend plan as of September 10:
Saturday
8:30am - Meet in Kearney, MO (see map below)
8:45am - Depart
9:15am - Brief stop in Cameron so more participants join in the caravan.
10:30am - Stop at Maid Rite/Amish Store, Lamoni, IA
12:10pm - Roadside Rest Area stop (if required)
12:50pm - Photo opportunity at the Winterset Square
1:15pm - Lunch in Winterset, IA, Northside Cafe
2:15pm - Wander shops in historic Winterset town square. Some sites to see are the Iowa Quilting Museum, $6 per adult, and the Courthouse.
3:00pm-5:45pm - Check in at the Cobblestone Inn
6:30pm - Private dinner at Anything Sweet and More Cafe
After dinner it is optional to visit the winery or cidery

Sunday
7 - 8:45am - Breakfast provided at the Cobblestone Inn
8:45 - 9am - Meeting
9:15am - Visit Imes and Cutler-Donahue covered bridges with a photo opportunity at the Imes bridge.
11am - Tour the John Wayne Birthplace Home & Museum. Cost is $15 for Adults under 60, $14 for each Senior, $8 for children 8 - 12, and free for children under 8 years old.
12:15pm - Lunch at the Sports Page Grill
After lunch at 1:15, time to head home or visit bridges on gravel roads or join Elaine and Rob for a quick visit to the Cedar bridge which was heavily damaged by fire earlier last spring.

As of this post, twenty-six individuals have signed up to participate in this drive, so it will be a great event.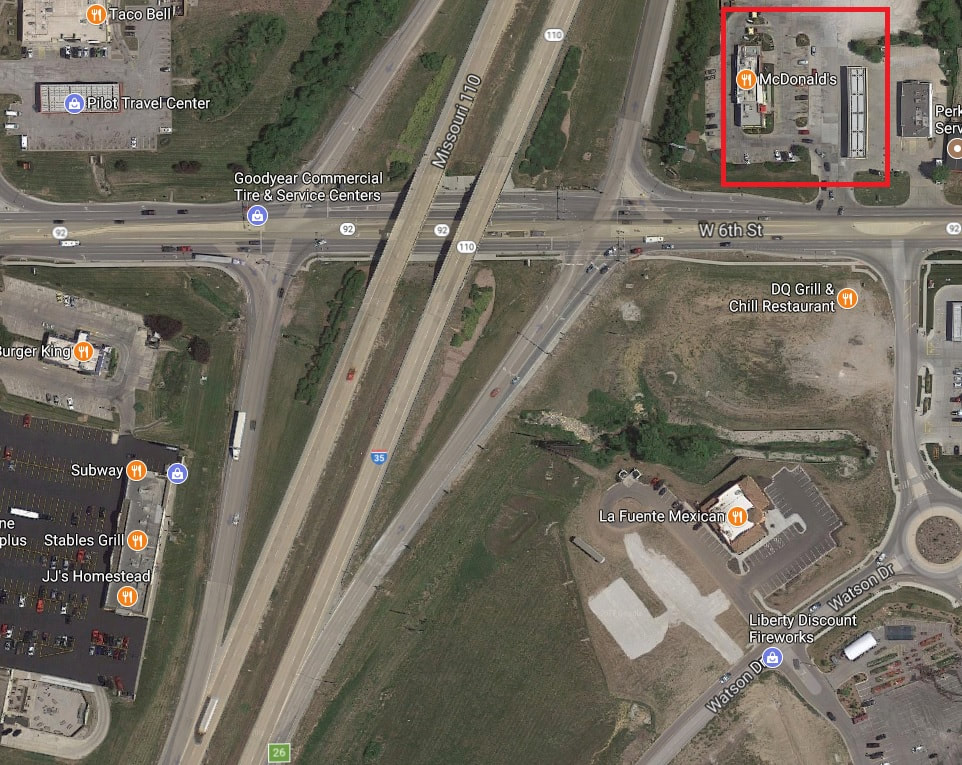 I-35 and Exit 26 at highway 92, east 1/2 block the turn left into the parking between the McDonalds and the closed Shell Station (red square)
November 4 - Annual Progressive Dinner
Always a hit with the Club is the opportunity to eat while driving from house to house. As of September 14, three Club member families have stepped forward to volunteer their hosting skills for this year's Progressive Dinner.

Host one will be Wes and Janice N who live in Lee's Summit. We will begin at their home at 3:30pm with appetizers. Following course one, we will caravan at 4:30pm to house number two to enjoy the entrees. Our hosts will be Martie and Jon K who reside in Raytown. Following course number two, we plan on caravanning to our third hosts at 6:30pm who live in Belton. Dessert will be consumed at the home of Randy and Melissa B.

Look for more information from VP Tim P at the end of September along with your opportunity to let him know which taste treat you will be sharing with other club members.
​
December 3
Annual Holiday Party
Room 180


We're returning to celebrate our annual Christmas Party at Room 180 in Olathe, catered by Joe's Kansas City BBQ, better known to those who have been in the area for some time as Oklahoma Joe's. Anthony Bourdain, host of No Reservations on the Travel Channel said, "It's the best BBQ in Kansas City, which makes it the best BBQ in the world."​
VP Tim P has made arrangements for this year's party, so make sure you send him an email, or reach out however you need to, to let him know you are attending and the number of people in your party. The deadline to contact time about this event is Sunday, November 19. The cost this year is only $20 per person, payable at the door, with the Club subsidizing the remainder. A cash bar will also be available. A great bargain for great food with a great group of people.

From 6pm to 6:30, we'll have a social time. Dinner time is 6:30pm, where you can enjoy four meats, four sides, house salad, dessert, and coffee, water or iced tea. At the end of the evening, enjoy your own door prize from the vast selection that will be available.

​And don't forget to look around the room at the video screens and enjoy past moments as we Review The Year in pictures.

If you haven't paid your 2018 annual dues by the time of this celebration, our Treasurer will be happy to receive your $20 at the time when you check-in for the evening.

We will also be showing our Year In Review slideshow on the screens around the room.

Check out the November edition of the Birds Eye View for Tim's phone number and email address.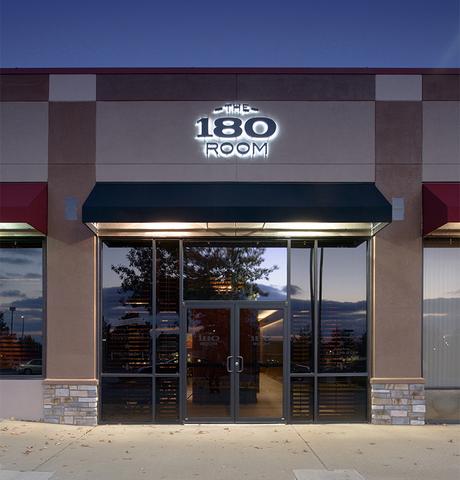 11944 S Strange Line Road
Olathe, KS 66062
​Next to Joes of Kansas City BBQ

Other 2017 Car Events That Club Members Might Enjoy
February 3 & 4 - Kansas Sunflower Swap Meet for Charity, Kansas Pavillions, 85th St N & I35, Wichita, KS 67219 (Fri 8am-6pm & Sat 8am-4pm) This the largest swap meet in south central Kansas located in Wichita KS. It has 3 buildings with 1200+ swap spaces. The show is open to vendors of auto related items only. Gas pumps, petroliana, literature, tools, and most anything you can use for your car or truck are welcome. $5 park per vehicle at the Kansas Pavilion.
March 24 & 25 - Mecum Auto Auction, Kansas City, MO Convention Center, 301 W 13th St, Kansas City, MO. One-day advanced ticket $20, $30 at door. More information at
https://www.mecum.com/auctions/kansas-city-spring-2017/
April 7 & 8 - Ararat Shrine Swap Meet, 2488 SE Highway 33, Lathrop, MO 64465 (Fri & Sat 7am-5pm). $3 per person donation at the door.
May 5 - 6 - Lawrence Swap Meet, Douglas County 4-H Fairgrounds, 1/4 mile north of K-10 Highway on Harper St. (Fri 1pm-dark, Sat 6:30am-dark, Sun 7am-12pm). Largest swap meet in KS.
May 5 - 7 - 29th Annual Magic Dragon Street Meet Nationals, Historic Bagnell Dam Strip, Lake of the Ozarks, MO. 8am - 6pm Saturday, May 6 and 8am - 1pm on Sunday, May 7.
June 4 - 36th Annual Mustang, Cobra, Ford powered car show and swap meet, Gary Crossley Ford, Liberty, MO 8am - 4pm. $15 car show entry before May 28, $20 after May 28 through day of show. More information at
Mid-America Mustangers website
.
June 10 - 17 - Hot Rod Power Tour begins at the Chiefs Arrowhead Stadium on Saturday, June 10, where they are expecting 1,000-3,000 cars on display from noon until 8pm.
June 17 - Kansas City Automotive Museum 3rd anniversary celebration and car show, 15095 W 116th St, Olathe, KS (9am - 3pm)
June 17 - Cars That Care, VFW Post 846, 8804 Grant, Overland Park, KS. $20 per car registration fee. (8am - 2pm)
June 18 - 38th Annual Lathrop, MO Antique Car, Tractor & Engine Show, 3 miles west of I-35 on highway 33 (8:30am-12:30pm). Join the car show on Sunday with a registration and $20 per vehicle.
June 18 - 34th Annual Standberry, MO Car Show. Registration fee day of show.
July 15 - 4th Annual People's Choice Car Show at the Carriage Houses in DeSoto, KS. Enter your car for a $10 donation to the Kansas City Automotive Museum. The winners are selected by you, the public. Or just see the over 150 cars that are participating. Garage owners will also open up so you can see and vote on your favorite.
July 15 - Midwest Ford Fest (Blue Oval Ford Club), at a
new location
in downtown Blue Springs, Mo in the 1100 block of W Main St. Gates open at 8am, awards at 2:30pm and show closes at 3pm. Normal registration fee is $25, but save $5 if registered by July 5.
July 30 - The Great Car Show at the WWI Museum and Memorial, a benefit of the Kansas City Automotive Museum and the National WWI Museum and Memorial. 9am - 3pm. There is a $5 charge to view the cars, what was limited to 400 and is sold out.
August 12-13 -
Ararat Shrine Swap Meet, 2488 SE Highway 33, Lathrop, MO 64465 (Fri & Sat 9am-5pm)

September 9 - Old Settler's Days Car Show in Olathe, KS. This event will not be a planned club event because of the vehicle age limitation. The event is held behind the Olathe City Hall from 9am - 3pm.
September 16 & 17 - Ol' Marais River Run Car Show in Ottawa, KS. Two-day show, held in Forest Park, begins at 6pm on Friday. Friday is an open day for all vehicles, regardless of age, but Saturday is limited to pre-1972 vehicles. On Saturday night, there is a "Back to the 60's" cruise night from 6-10pm. Check out their website at
http://www.olmarais.com/
for more information and to pre-register. $25 per car pre-registration, $30 day of show.
September 23 - KCI Cruise, 1220 Ambassador Drive, east of KCI and I-29. 3pm to dark. Hundreds of classic cars, muscle cars, hot rods, rat rods, exotics and imports in a casual, unjudged atmosphere. Free admission, open to the public. For more information, go to
FlyKCI.com/cruise
.
September 24 - Bonner Springs United Methodist Church Cruise Night, 425 W Morse Ave, 4:30 -7pm. Come show off your car or admire the cars of others while enjoying free food and a good time!
November 30 - December 2 - Mecum Auto Auction, Kansas City, MO Convention Center, 301 W 13th St, Kansas City, MO (see
Mecum website
for more details)
www.mecum.com/auctions/kansas-city-2017/
This webpage was last updated 06 December 2017